The DKNY collection for spring-summer 2009 was based on sport clothing and fluorescent colors. Now, its collection for next autumn-winter (2009 / 2010) changes radically to show us some designs with a very feminine, sober and elegant style. We believe this is a trend that will continue throughout several fashion shows.
The designs of this collection are very slender and tight to the body, with skirts that fall below the knee and short jackets with a style that Victoria Beckham would love (of course, if we see Victoria is buying clothing at DKNY stores, then it will be a clear signal that the crisis is really severe). Also, wide belts are present on this collection, as well as coats with a rounded shape and short sleeves.
The palette of colors is typical of the winter: red tones combined with black, gray and green. Also, some prints are used: particularly lines, houndstooth prints, and a small dose of animal prints, which were very popular recently.
It seems DKNY has abandoned its "stylistic experiments", at least for the moment. Maybe due to the tough times we're in. Instead, the clothing store is playing safe by creating a collection designed to be easy to sell, with classic designs that are always in fashion, targeted to a wide range of women. Now, we have to wait to see this collection available at the stores.
DKNY
Fall Winter
DKNY
Fall Winter
DKNY
Fall Winter
DKNY
Fall Winter
Fall/Winter 2009-2010 Shoes
Fall/Winter 2009-2010 Shoes
Jing Zhang hails from China but she has just (or is going to) wrap up her studies in fashion design in the UK. Her site presents an interesting insight into fashion illustration, as it has examples of her illustrations as well as her hands-on fashion projects.
fashion illustration
fashion illustration
fashion illustration
fashion illustration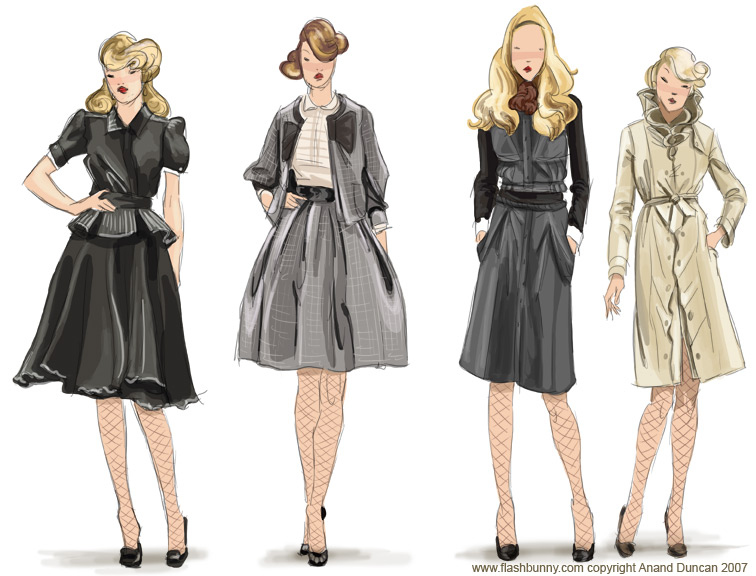 fashion illustration
Lionel Messi has become the first Argentinian to win the Ballon d'Or, the FC Barcelona forward claiming the prize awarded by France Football (soccer) magazine for the European Player of the Year.
The 22-year-old eclipsed runner-up and last year's winner Cristiano Ronaldo by a record 240-point margin. Messi earned 473 points out of a possible 480, a near unanimous verdict, in the poll of 96 journalists worldwide. The award caps a brilliant year for a player who helped Barcelona to UEFA Champions League glory – he scored nine goals in last season's campaign including the second in the final victory against Manchester United FC – as well as to a Spanish league and cup double.
Lionel Messi
Lionel Messi
Lionel Messi
Lionel Messi
Lionel Messi
Another NBA season is beyond us, and now it's that time of year again- where self proclaimed know-it-alls in the blogosphere use what little knowledge (bias) we have and crown the who's-who of the NBA. Also, with the playoffs coming as soon as tomorrow (predictions coming soon) I'll hand out my awards before the action gets too nailbiting.
Lebron James
Lebron James
Lebron James
Lebron James
Lebron James